ANNUAL MEETING OF MEMBERS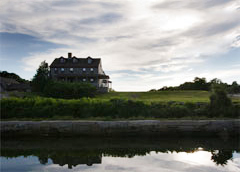 A large and festive group of QHPT members gathered at the Harbor House for the QHPT Annual Meeting on July 2, 2022. At the business meeting, Dana Rodin reported on the successful completion of the major portion of the Knob restoration, as planned and on schedule. Randy Evans announced that, based on the recommendations of QHPT's engineers, the Trust was planning to repair an additional wedge in the Knob revetment—the Northeast Wedge--this Fall. That project will be quickly followed by the regrading and replanting of the entire construction area.
QHPT members and other donors have been extremely generous in their contributions over the current capital campaign. The Trust is confident of its ability to continue its fundraising efforts to support the completion of the Northeast Wedge and the rest of its objectives over the next several years.
The Trust welcomed Hilary Davis and Marcy DeWolfe as new directors, John Sigel as the new President and Randy Evans as the new Chairman. Randy thanked Kate Davis, who was at the end of her last term as a director, for her years of service and excellent advice. The meeting was followed by a buffet and reception on the Harbor House lawn.